Simple & effortless Taxi Reservation in Gouves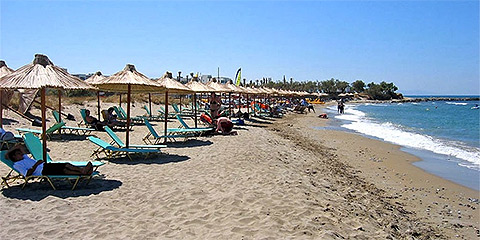 Gouves is one of the picturesque Crete villages where you will surely enjoy a pleasant family holiday or group partying. These activities can be even more pleasurable if you choose the professional and exclusive transfer services of C. Our taxi in Gouves services are provided in top quality vehicles that are appropriate for individuals and groups of all sizes. We can offer you luxury transfers in Gouves in cars, vans and shuttle buses, so no matter how large your group is, we have got you covered. Our drivers are top professionals in this line of business; they speak several world languages, so all your needs will be properly covered. Gouves is a smaller village with beautiful, long sandy beaches. It is located approximately 4 kilometers from Chersonissos. The old, traditional village of Pano Gouves (Upper Gouves) is a few kilometers away, but definitely worth visiting in one of our air-conditioned and comfortable vehicles – you will instantly feel like you have gone back in time while walking among these old traditional houses with flower pots in the windows.
Crete in general is an ideal island for all different ideas of holidays and vacations. You can enjoy family holidays, adventures, exploring, partying; you can experience an affordable, economic vacation, or holidays with style that deliver every possible type of luxury you can think of. Gouves is an excellent destination of choice in Crete because it is nearby all the archeology sites that make Crete a home of culture and long European history. After just a short drive with our luxury transfer you can enjoy the sights of archeology remains of ancient palaces, where you will get the answers to how and why this is the place where European ancient civilization started.
Gouves is a meeting point between modern, touristic centers and traditional sights of hillside villages and picturesque seaside settlements. The entire island of Crete is bursting with endless plantations of oranges, lemons and olives – the scent is simply divine! The natural beauties of Crete are breathtaking: on one side there are steep mountains and deep canyons and on the other side there are serene, long sandy beaches.
The Kato Gouves resort is part of the approximately 6 km long strip, which combines the resorts of Kokkini Hani, Kato Gouves, Analipsi and Anissaras. Kato Gouves is located close to the well-known and frequently visited resorts of Chersonissos, which is the busiest town in the entire area.
Enjoy the natural beauties of this picturesque village and surrounding area in our high-class luxury vehicles. We can make your stay in Gouves spectacular. Contact us to arrange all the details of custom transfers according to your wishes and ideas.
Routes Map from Gouves
Most Popular locations for your Taxi Booking in Crete