Luxury Transfers in Crete
Book now a private transfer from / to Heraklion Airport or Chania Airport
We are registered for transfer services and have been doing this for a number of years. We enable our clients to enjoy a luxury transfer from airport to hotel, organised for individuals as well as smaller and larger groups. Our Luxury Transfers in Crete are specialised services that enable clients to have ultimate satisfaction. Thanks to our luxury vehicles and professional staff, we provide expert, discreet and reliable transfer services. Our luxury fleet provides safety and comfort.
When we agree on a certain schedule, we will entirely devote our time to follow all relevant info about your arrival throughout the day so that you are greeted when you arrive. In case of flight arrival/departure changes, we will instantly adapt to the new schedule, because we are here for you!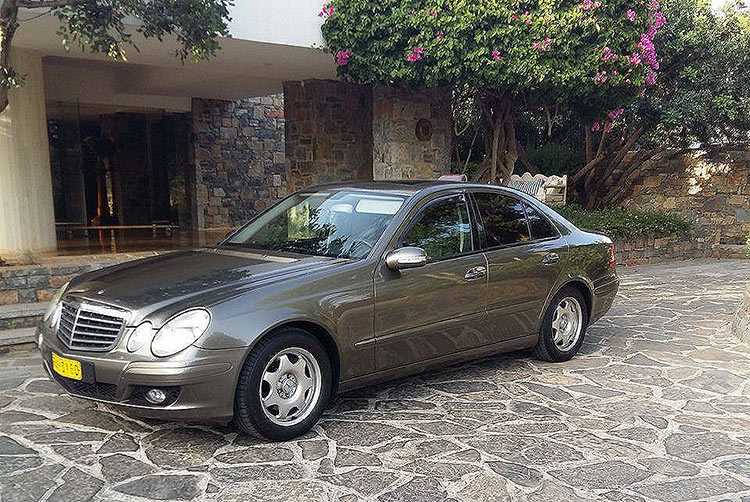 Our professional and experienced driver will wait for you at the airport, just outside the customs exit, within the passenger arrival hall, carrying a sign with your name or the name of your company, waiting to pick up your luggage and escort you toward your chosen luxury car or limo. In case your luggage gets lost, our driver will help you solve the case by helping you report missing luggage at an appropriate airport service.
With our Luxury Transfers in Crete you can forget about the worrying, stress and problems that usually accompany air travels. Our professional drivers will take you in a comfortable, high-class vehicle from the airport to your hotel, enabling you a relaxed, care-free, air-conditioned ride.
If you worry about the costs of such a luxury service, relax. When you ask for a price of a particular luxury transfer, you will discover that our prices are very competitive and affordable for this class of luxury vehicles. We take great pride in the fact that we are one of the leading Crete luxury transfer service providers.
Reserve a Luxury Shuttle Bus all over Crete
Advantages of our luxury transfer services are:
We offer exclusive luxury vehicles of different sizes that can transfer a group of every size.
We are reliable, accurate and responsible. You can truly count on us!
We don't charge for our waiting for your arrival on the airport terminal.
We don't charge adaptations in our schedule when flights are late, postponed or canceled.
Our professional drivers speak foreign languages fluently.
Our drivers are professionals with credentials; they have appropriate licenses along with experience.
Drivers are professionals at the client's disposal: they will carry your luggage and open and close doors for you.
Our prices are fixed-there are no hidden costs.
We will take you to your destination in ultimate luxury, in comfort and top safety.
We guarantee discretion.
Our service is at your disposal 24/7, 365 days a year. Contact us with confidence.