Book your Taxi Transfer at Heraklion Port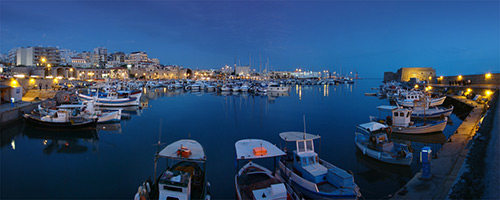 Heraklion is the administrative, economic and cultural center as well as the biggest city on Crete and the fourth in Greece when we speak about population. Heraklion is located on the north coast of Crete and has a coast on the Crete Sea. The Heraklion Port is one of the best world and European ports, thanks to its technical elements and advantages, which is a reason why it is so popular among tourists.The Heraklion Port is third in size and importance in Greece, which means that it is a very busy port. During the holiday season, it is bustling with tourists and it is very crowded. This is one of the most important reasons to arrange your transfer from the Heraklion Port in advance. Booking a reliable and comfortable taxi in Heraklion Port will enable you to get away from all this noise and tussle to your hotel in no time at all. Our professional drivers will confidently and easily get you to the comfort of your hotel, while at the same time providing you with the ultimate luxury and pleasure along the way.
While in Heraklion, you will surely want to get around and get yourself introduced to its historic and cultural beauties. Let us take care of all the details of organizing your leisure transfers in Heraklion Port and around the city. Sit back and relax in an air-conditioned car or a limo, with a designated driver that will take you along the agreed route, from one destination to another.
Heraklion's sights and museums are located in an old city core, and you can visit most of them within a day or two, depending on how much time you have to devote to sightseeing.
Heraklion has approximately 170,000 inhabitants and during summer it becomes a tourist center point, covering over 170 square kilometers.
You will hear many interesting stories during our relaxing transfers in Heraklion. For example, antic mythology says that Zeus, the father of all gods, brought to Crete a beautiful young girl named Europa where they fell in love. The fruit of their love was their son Minos, which was a name of many Crete rulers as well as the entire civilization period: the Minoan Era. The Archeology Museum in Hiraklion has on display many objects found on Crete back from the Neolith Era (5000 BC) toward Roman remains (4th century) and is considered one of the best world museums with exhibits from this era. Don't miss a chance to visit this museum during one of your luxury Heraklion port transfers.
Routes Map from Heraklion Port
Most Popular locations for your Taxi Booking in Crete