Heraklion Airport Transfers
Heraklion Airport Shuttle Service & Taxi
Crete was an island ruled by Minoans, ancient Greeks, Romans, Dorians, Venetians and even Turks, and today this is one of the most popular summer destinations on the Mediterranean. Also known as the "Island of Gods", the place where the top Greek god Zeus was born, but also for the legend of the Minotaur, a mythical creature that lived in a labyrinth. As much as 15% of all arrivals to Greece come through the airport in Heraklion, the capital of Crete. As this is evidently a very busy airport, you will definitely be at a great advantage if you book in advance a reliable, comfortable and luxury taxi in Heraklion Airport.
When you arrive to Crete, the best way to get to your hotel is to book one of the best professional transfers in the Heraklion Airport. Heraklion is a beautiful city, one that will enable you to get a magical insight into ancient times.
Routes Map from Heraklion Airport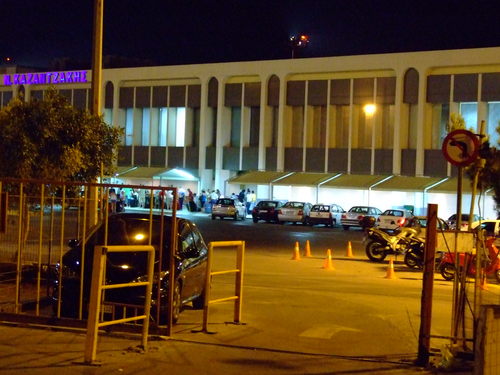 Heraklion (Ηράκλειο) is the 4th largest city in Greece. It became the capital of Crete only about three decades ago. As was already mentioned, it was ruled by numerous nations in previous periods, while Venetians in the 16th century made the main city sight a port originally named Roca al Mare (Koules). In this period, Heraklion was also known as Candia. Heraklion is the economic, market and scientific center of entire island of Crete and the main island port that also brings in a large number of tourists and visitors to Crete and to all of Greece.
Old Heraklion city is surrounded by ancient Venetian walls that lead to the Koules fortress that dominates the old city port. The main city attractions are: City Hall (also from the Venetian era), the Morossini Lion fountain, the Turkish fountain Koubes, Koules Fortress and old Venetian city walls. The Koules Fortress in one period served as a jail but also as a place of art where the works of Domenico Theotokopolous (also known as El Greco) were displayed. There are also archeology sights – the Minoan palace Knossos as well as an archeology and historic museum. Of other sights you can visit, while riding around in our luxury and comfortable transfers in Heraklion, include an archeology museum with representative examples of Minoan culture, the Cathedral Agios Minas that has amazing acoustics, St. Catherine Church that holds a museum of icons, St. Tit Church and the Martinegro Fort.
There are no beaches in Heraklion city because of the passenger and cargo port, but on both the west and east sides out of the city there are a dozen of beautiful beaches where you can enjoy in pleasurable swimming and sunbathing. Let our professional drivers take you to the most beautiful destinations that will fully present the true beauty of Crete and the Heraklion area.
Most Popular locations for your Taxi Booking in Crete